Morning Meteorologist
Lexington, Ky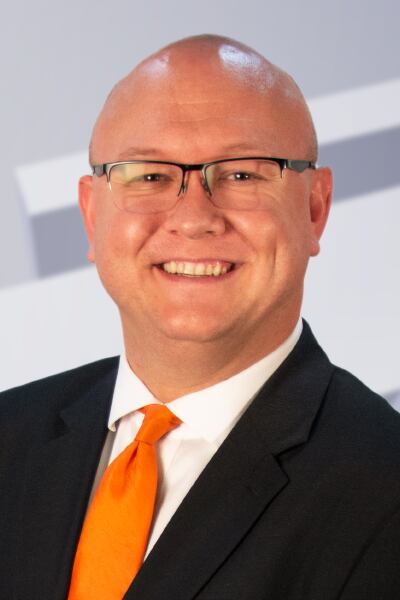 "For the first 15 years of my life I wanted nothing more than to be in the medical field--specifically studying in the field of Psychology," says WKYT meteorologist Jim Caldwell. "In an insert of one of my elementary school yearbooks, we were asked the all important question 'What do you want to be when you grow up?'I responded honestly and said, 'I want to be a psychiatrist, so that I can see what makes people tick.'"
Up until he was 15, Caldwell says this was the road he was preparing to head down but something happened that changed that path.
Always having a desire to be on the radio, he received his first chance when he was 15. WRLV AM/FM in his hometown of Salyersville wanted a student to come by and record a couple of promos that kept the community up to date on school news.
"From that point on I wanted to be in communications whether it was radio or television. I uncovered a passion for broadcasting that I couldn't deny," said Caldwell. "So, no more medical field for me. I had found a new love."
When he turned 16, Caldwell was given another opportunity to get into the broadcasting field early. His high school electricity teacher was asked to do play-by-play for the Magoffin County Hornets. He asked Caldwell to be his color commentator and statistician.
"That was the break that I needed because just as soon as the season ended I was offered a job at the station," Caldwell said.
His very first job was recording the evening weather and recording some commercials. On a daily basis, he only put in two or three hours a day after school. Before he knew it, he was doing everything from cleaning the station, taking out the trash, dabbling in sales, writing commercials, or washing the station vehicle.
During all of the juggling of numerous duties, he was also on the air live everyday from 3 to 6 p.m. and all weekend weather was on his shoulders. "I was given a few titles while there. The first was sports director in 1999 and in 2000 I became music director" said Caldwell.
The whole time he was working at WRLV, he was also finishing high school and beginning the first part of his college career at Prestonsburg Community College (now known as Big Sandy Community & Technical College). One cold February day in 2001, Caldwell received a phone call from Tony Turner that would change the course of his life again. "He asked me to come over to WYMT and interview for the chief weathercaster position," Caldwell said.
"All through school and in life weather was always interesting. I had studied it and I admit it had always been a passion of mine, and I really looked forward to the chance to put my knowledge to the test. In late February 2001 I made my third trip ever to the city of Hazard. This time I was here to try for my chance in television. Little did I know that it wouldn't be the last," said Caldwell.
Caldwell started work at WYMT on March 12, 2001.
In March 2003, Caldwell became a member of the American Meteorological Society and the National Weather Association. He received his Broadcast Meteorology Certificate from Mississippi State University.
In June 2013, he made the decision to become a part of the WKYT First Alert Weather team after spending more than 12 years at WYMT.
"I was fortunate to marry my best friend in this entire world. Terri and I have been together for years so why not tie the knot? I have two sons. The oldest is Caleb and Carsyn Storm. Caleb may be my step-son, but he's just as much mine as he is Terri's," said Caldwell.
"I used to say, Give me an XBOX One, any of the Halo franchise, Call of Duty, and I will be awake for a month. That has changed as I have gotten older. Now, I let Storm do all the gaming and I do all the watching and sleeping."
Education
Mississippi State University
Broadcast Meteorology
Awards
3-Time AP Best Weather Anhcor