Honoring fallen heroes: Funeral held for Deputy William Petry
Published: Jul. 5, 2022 at 9:56 AM EDT
FLOYD COUNTY, Ky. (WKYT) - A solemn week continues for a Kentucky community as four heroes prepare for the journey to their final resting place.
Deputy William Petry, police Captain Ralph Frasure, Officer Jacob Chaffins and K-9 Drago were killed on June 30 in an ambush.
Tuesday morning, WKYT covered Floyd County Sheriff's Deputy William Petry's funeral at the Mountain Arts Center:
(Story continues below)
From Lexington to Bowling Green, law enforcement from across the state attended to honor the life and legacy of Deputy Petry.
Deputy Petry began his career with the Prestonsburg Police Department, where he worked for 14 years. For 15 years, Petry served with Kentucky State Police and for the last two years, he served with the Floyd County Sheriff's Office. Petry also led the Martin City Fire Department as chief.
Deputy William Petry was a husband and a father of two. Petry also leaves behind two grandchildren.
Fayette County Sheriff Kathy Witt was among those attending Petry's funeral. She says the line of duty deaths hit close to home for her office. The law enforcement officers died trying to serve an EPO, something Fayette County deputies do daily and it's why Witt wanted to be here for Petry's family.
"It's critically important that we come down and pay our respects and our honor to the fallen officers and their families, we want to be with them not just today but in the months and years to come," said Witt.
We'll also carry Prestonsburg Police Captain and School Resource Officer Ralph Frasure's service at the Mountain Arts Center starting at 1 p.m. on Wednesday.
Prestonsburg Police Officer and K-9 Handler Jacob Chaffins' funeral is Thursday at 1 p.m. at the Mountain Arts Center. The family has requested no cameras inside the funeral. We will honor their request.
"These three officers, we have worked with them many times in the past in this building. So, we checked with the family as long as they were okay with it we were ready to go," said Joe Campbell, executive director of Mountain Arts Center.
Petry, Frasure and Chaffins will all be laid to rest at Gethsemane Gardens in Prestonsburg.
After Petry's funeral service, a procession, consisting of police, EMS, and fire departments from all over Kentucky and across state lines, left for the cemetery.
(Story continues below)
As the procession came through town, many people stepped out of their homes and businesses to pay their respects. People who were driving by, stopped, and got out of their cars.
The procession itself was so long that the front made it to the cemetery before the hearse left the Mountain Arts Center, which is a 6-mile drive.
A memorial service for Floyd County Sheriff K-9, Drago, is also scheduled for Friday at 6 p.m. at Mountain Arts Center. That service will be dog-friendly, so other four-legged officers can attend to pay their respects.
Money is being raised for the families of the law enforcement officers. There is a fund set up through the Floyd County Community Foundation.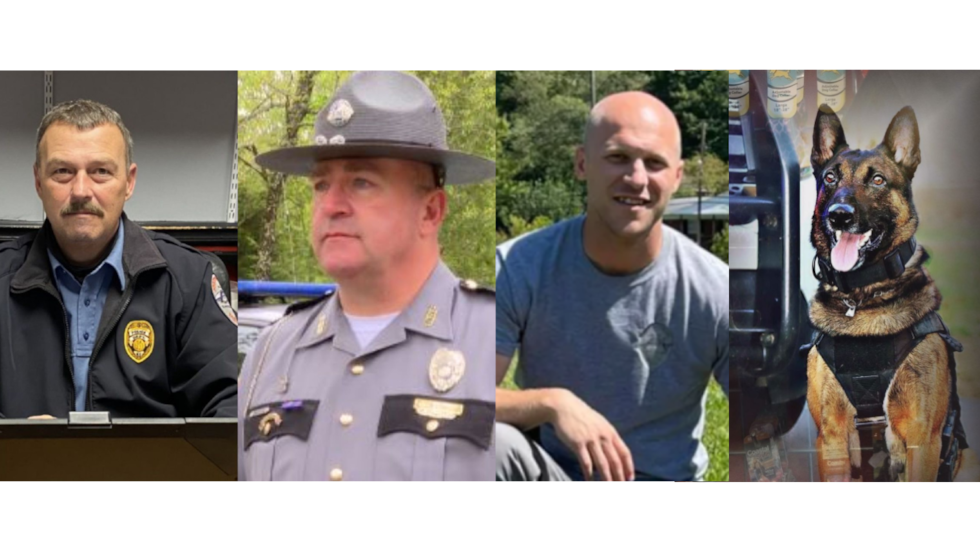 Copyright 2022 WKYT. All rights reserved.